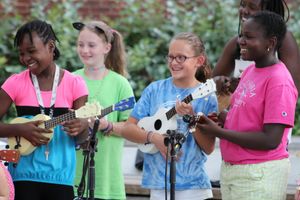 The Ukes on the Move project offers the spark to ignite the imaginations of young and old, while also providing the experience of success in acquiring a skill that is tangible and real.
After 6 weekly sessions, participants learn the 3-4 simple chords and basic strumming techniques, enough to be able to play hundreds, even thousands of songs. Students also collaborate on a class song, with the support of our teaching artist. In-school performances and field trips to perform outside the school help to build students' confidence in their new music-making skills and that confidence carries over into other areas of their life.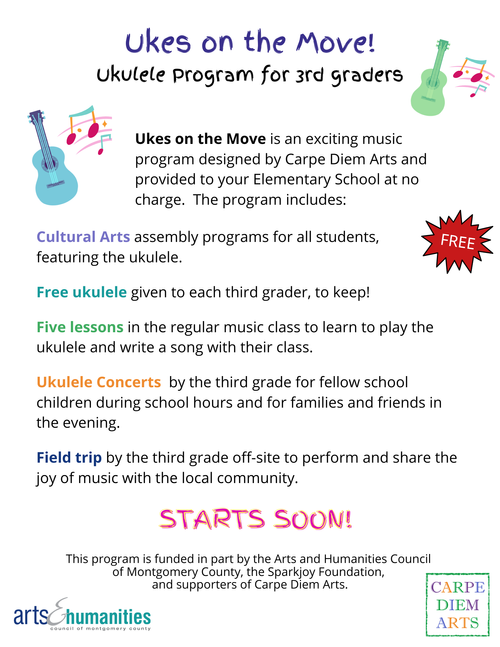 MATCHING FUNDS NEEDED
After last year's successful implementation of Ukes on the Move at 3 elementary schools, Carpe Diem Arts is back at it again in school year 2023-24.
We have been awarded another Wheaton Cultural Project grant from the Arts & Humanities Council of Montgomery County to bring our Ukes on the Move program back to to Title I Viers Mill Elementary School in Wheaton.
And we have received a grant from City of Takoma Park to deliver the program to Piney Branch Elementary School and a grant from Nora Roberts Foundation to work with Wheaton Woods Elementary School.
At each site, third graders will be given a ukulele of their own to keep, they will learn how to play 3-4 chords on the ukulele, they will collaboratively write songs, and they will perform at their school and at a nearby site off-campus.
While all these grants contribute greatly to the programs, we still need your help to make ends meet. If you would like to give the joy of music to a child, please donate below.
Special thanks to the Sparkjoy Foundation for their support of all our ukulele programs.
We are so proud of our 3rd grade songwriters!
"

I love the fact that people don't see the ukulele as a serious instrument. A lot of people see it as more of a toy, and I love that because it just proves that people aren't intimidated by the instrument. They aren't afraid to pick it up."
— Jake Shimabukuro